Better local search results with Google My Business
Small businesses depend on local business and that starts with your Google My Business profile. If you do a search for a product or service in your area, you will see a Google Map with the red location pins. It includes things like hours of operation, contact information, ratings, and promotions which is what the user is looking for.
Small local businesses can benefit tremendously from great results for local searches. Not only is this free exposure, but local search results also tend to have a higher conversion rate.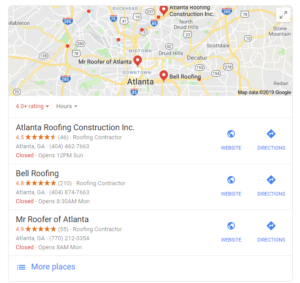 Below is a list of things in your Google My Business profile that will help you get better local search results:
Business details like hours, phone numbers, and address
Customer reviews and review replies
Business description with quality pictures
All of this is valuable information needed to attract potential customers. Update your Google My Business profile and make sure that it's accurate. The last thing you want to do is have the wrong information posted. Retail businesses like jewelry stores and service providers like roofing companies really benefit from optimizing for local search because most of their customers will be local.
You don't have to have the best looking website but you will need to take the basics steps to provide details about your business in order for Google to consider placing you as one of the three local search results. A little effort to optimizing your website can get you on page 1!
Here's what Google says about increasing local search results with Google My Business.
Learn more about our SEO services.