PPC Advertising for HVAC Companies
The HVAC industry is growing and extremely competitive, so generating quality leads at a reasonable price is a high priority. Generating leads for HVAC companies is not only competitive but it can be very expensive, especially if your company doesn't have the funnel of referral business from happy customers.
Advertising websites like Home Advisor and Angie's List promote HVAC companies nationwide, but the quality of the leads from lead generation websites like these can be poor and expensive. If your "lead" is sent out to several companies in the same area and you're not one of the first ones to call them and provide the best price, then chances are you'll lose them. This is probably not the best option for advertising your business.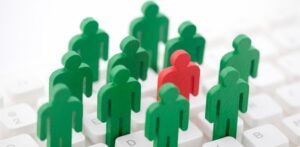 However, there is a more effective way to advertise your HVAC company. Google Ads is a great way to generate quality leads. You have all the control and flexibility to reach people when they are looking online for a good air conditioning repair company. Just keep in mind that the average cost per click can be expensive, in the $50+ range, and it will take time to see results. But if you have the budget for it, it is definitely something that should be a part of your advertising budget.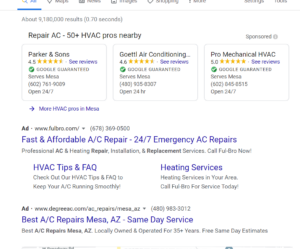 From our experience, putting together PPC campaigns for HVAC companies takes a lot of work to set up properly. There are so many ways to create ad groups and keyword combinations. Creating a quality PPC campaign will require segmenting related keywords into different ad groups, and identifying negative keywords to avoid bidding for keywords that are not related to your HVAC business. Maintaining and managing your negative keywords list will play a vital role in keeping the average cost per click prices low for terms that are important for an air conditioning company.
A well-organized Google Ads campaign can help HVAC companies show up for search queries. Our advice is that you monitor it closely and give it enough time to make adjustments to maximize your advertising dollars. Work with someone who is trained in Google Ads so you aren't wasting your time or money.
If you want to learn more about pay per click advertising or are looking to advertise your HVAC company on Google or would like someone to audit your existing campaign, give us a call at 770-696-9426. We would love to help.