Pay Per Click Advertising Management Services
More than 60% of sales now come from the top 3 listings on Google & Bing. The percentage is higher for high end retail businesses and niche industries like tax lien investments. Great PPC advertising results can really make a difference for all businesses.
Getting your company on page 1 of Google at the right time is our goal.
The great thing about PPC is that if you get the right message across, then the customers will just start rolling in, right? No it's not that easy, but it is the best way to reach millions of people in your area to tell them about how great your company is and why they should do business with you.

Quality Pay Per Click advertising involves setting up the account properly, creating ad groups, writing great ads using Google Ad extensions including structured snippets, and constant monitoring. The setup process along with the appropriate tracking is vital to knowing what's working and what's not.
Each Pay Per Click campaign is unique. Our experience working with clients in both industries allows us to create effective quality PPC campaigns based on real results. We do not just stuff a lot of keywords in an account, writes some ads, and then let it go. It's unfortunate but that happens more often that you think.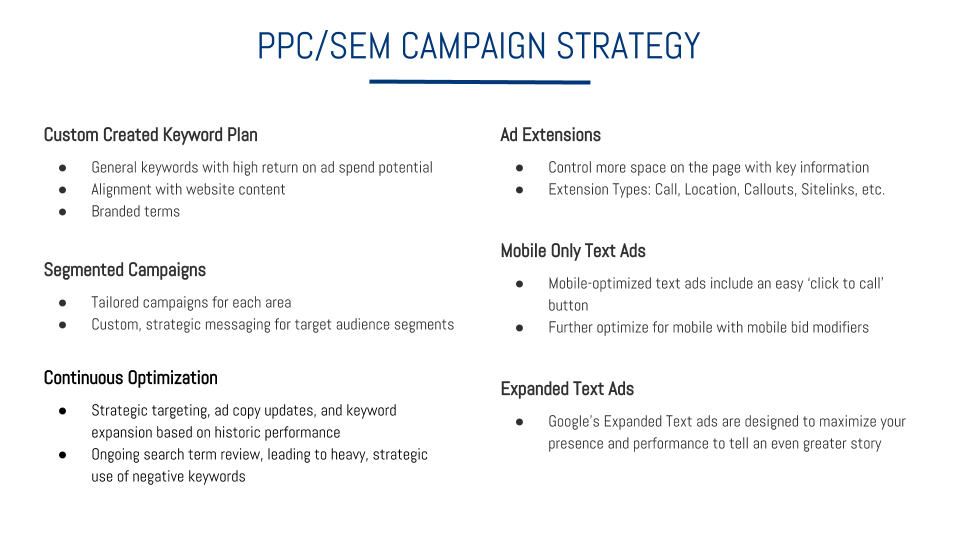 One of our main goals is to explain your PPC advertising so that you understand it. In order to get the best results you need to know what's going on and so do we. We work with our clients by keeping them updated and allowing open communication so that everyone is in the know. We can determine cost per conversion from your PPC using industry averages, but it is much more accurate if we get that information from you and apply it to your campaign.
Just like every other part of digital marketing, the key to success is working with the client and executing properly. Learn more about pay per click advertising and how it can increase your business.
Learn More About Quality PPC Advertising Services!
Articles related to Pay Per Click advertising